Location: Spean Bridge, Lochaber, Scottish Highlands
kind of castle: no castle, bronze statue, War Memorial
today: War Memorial with ashes scattering spot
public transport: busses and trains to Spean Bridge
scheduled monument: yes
entrance fee: free
opening times: 24/7
directions: Commando Memorial – Google Maps
The Commando Memorial at Spean Bridge is dedicated to the British Commando Forces raised during World War II which have been trained at the grounds of the not far away located Achnacarry Castle. The location of the memorial was chosen wisely as it overlooks the training areas, established in 1942. Just ten years after the Training grounds were established the Queen Mother unveiled the memorial in 1952.
Today it is one of the best-known monuments a place not only used as a war memorial but also as a tourist attraction, offering great views towards Ben Nevis and over Aonach Mòr.
Designed by the sculptor Scott Sutherland, who won a competition with the price of getting the job to design such an important monument, in 1949. I personally find it great that Scott Sutherland was chosen by a competition but also was someone who served in the army during World War II, he might not have been one of the Commandos but he was someone fighting just as they did and so he was a pretty good choice to be the sculptor of this Memorial for one of the bloodiest wars in human history.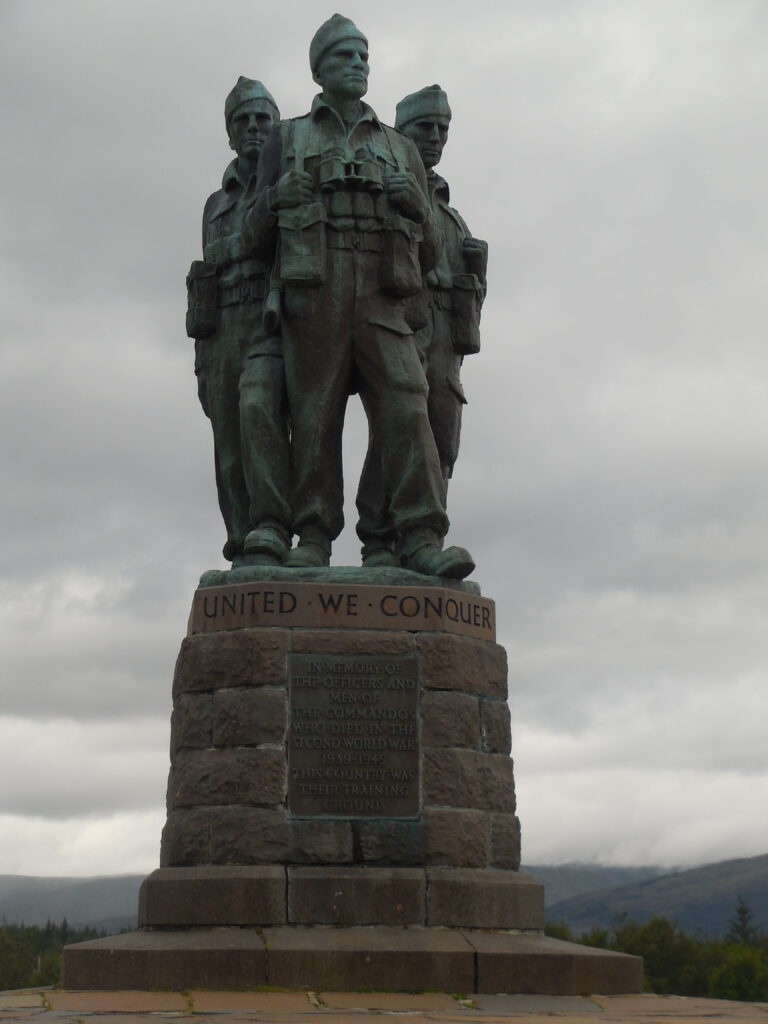 The inscription on the bottom of the sculpture reads "United we conquer" while the original plaque right below mentions the grounds as well as the fallen "In memory of the officers and men of the commandos who died in the Second World War 1939 – 1945. This country was their training ground.". Those two writings give honour while to the fallen while at the same time showing some sort of motto of the Commandos.
Even its location was chosen wisely. It is located directly on the route which the Commandos on their way to the Training Centre must have taken when they got off the train at Spean Bridge railway station, crossing the country towards Achnacarry Castle offering the first test for the new recruits. Having to carry all their stuff and keep an incredible speed, who couldn't keep up was send right back to their units. After all the Commandos were meant to be a special unit being a big part of the change of the wars course.
I remember visiting the Memorial when first in Scotland, but I also am ashamed to say that back then I didn't give a lot about it and wasn't really interested in it. I wish I could go back in time and change that, but I can't. However, visiting there again is very high on my list, especially since I learned so much about the area of Lochaber and its history since I visited.
In the following category of my block you can read more about the Commandos and their training grounds, since they are located along the Great Glen Way (at least partly): The Great Glen Way – A scottish World