Location: Carsluith Village, Dumfries & Galloway, Scotland
kind of monument: Chambered Tomb
today: situated in a field, publicly accessible
public transport: buses to Carsluith Castle
scheduled monument: yes
managed by: Historic Environment of Scotland
entrance fee: £ 0 free
opening times: 24/7, all day, all year
directions: Cairnholy – Google Maps
Consisting of two neolithic chambered tombs Cairn Holy (or Cairnholy) is located near the village of Carsluith, not far from Carsluith Castle (see previous post) in Dumfries and Galloway. It is situated on a hillside overlooking Wigtown Bay and if you see it with your own eyes, you will understand why this place has been a worshiped over thousands of years. The views are incredible!!!
Lying open to the sky these days since most of the covering stones have been taken to build the field walls surrounding the area. Finds from the excavation in 1949 you can find in the National Museum of Scotland.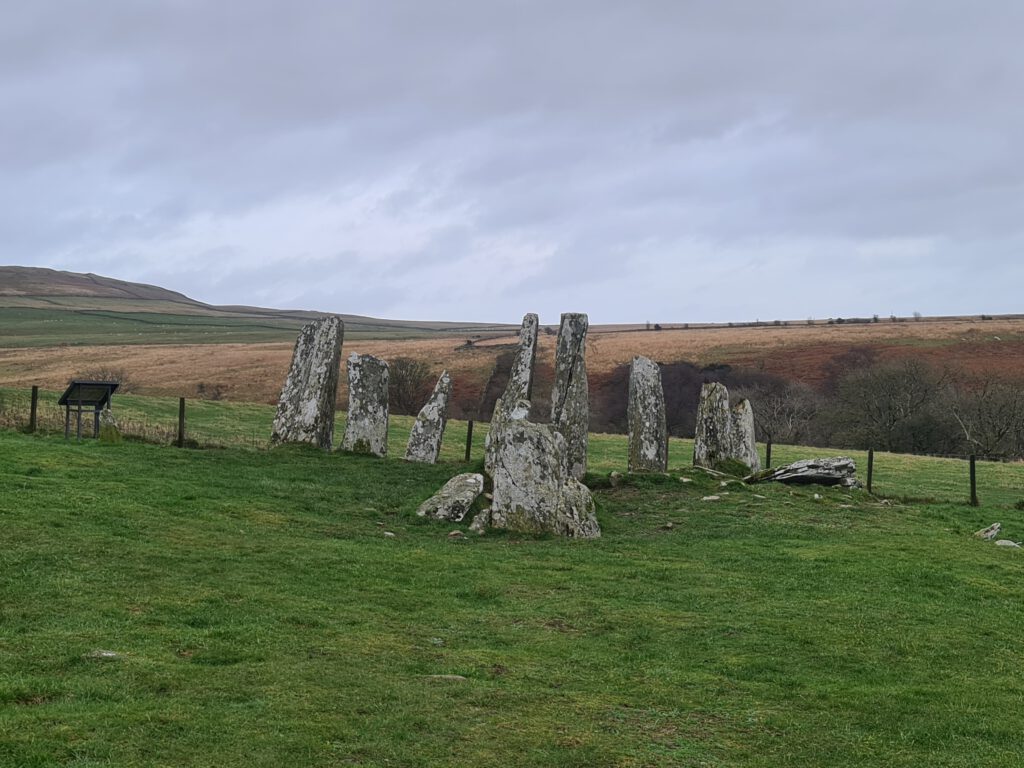 Divided into two separate cairns you can visit both of them today, only about 150 m away from each other.
Cairnholy I is more elaborate than Cairnholy II as well as having a monumental curving façade, which formed the backdrop to a forecourt, showing signs of several lit fires. Consisting of two chambers, the tomb contained a fragment of a jadeite ceremonial axe, sherds of Neolithic pottery, a leaf-shaped arrowhead, Peterborough-ware, Beaker-ware, as well as a flint knife. The inner chamber was built as a closed box and was inaccessible from the outer one.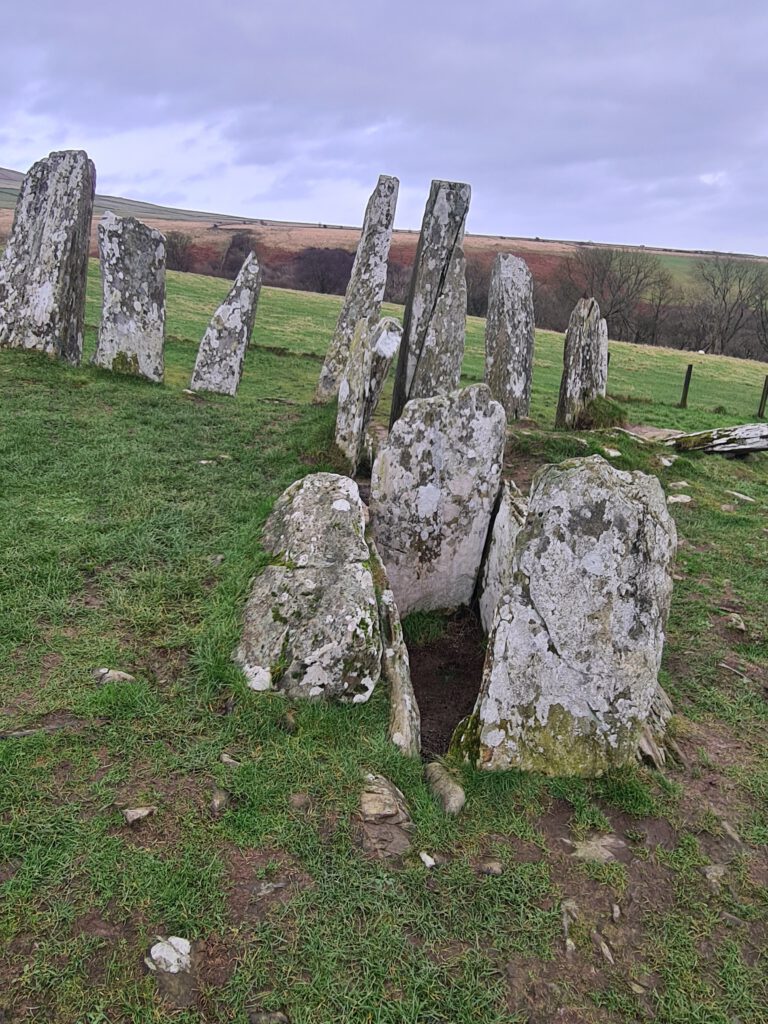 The inner chamber originally may have been roofed by a great stone slab. It contained a secondary cist, with food vessel sherds and a cup-and-ring carved stone.
Cairnholy II lies north of Cairnholy I and it is said that it originally was the tomb of Galdus, a mythical Scottish king. The cairn is less than 60 centimetres high and has been robbed of nearly all its stones, however, there are still two portal stones in front of the chambered tomb. A shallow v-shaped forecourt lies in front of the tomb.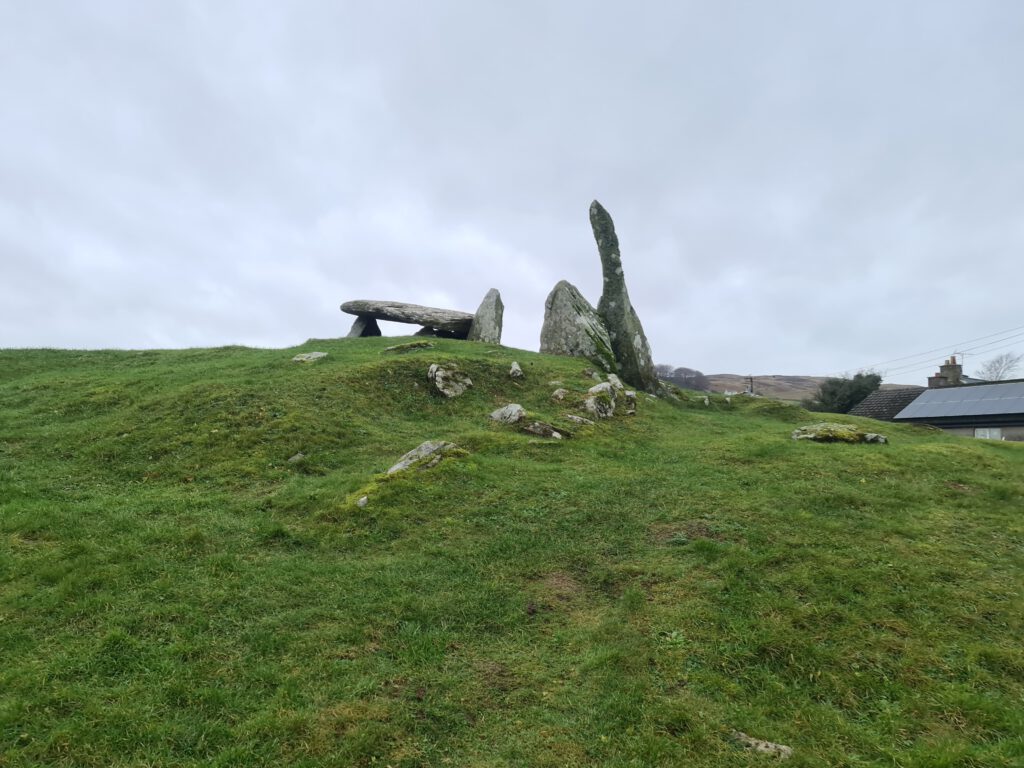 Just like Cairnholy I this cairn consisted of two chambers, the rear chamber been previously robbed. An arrowhead and a flint knife were found there within the filling, as well as secondary sherds of Beaker pottery.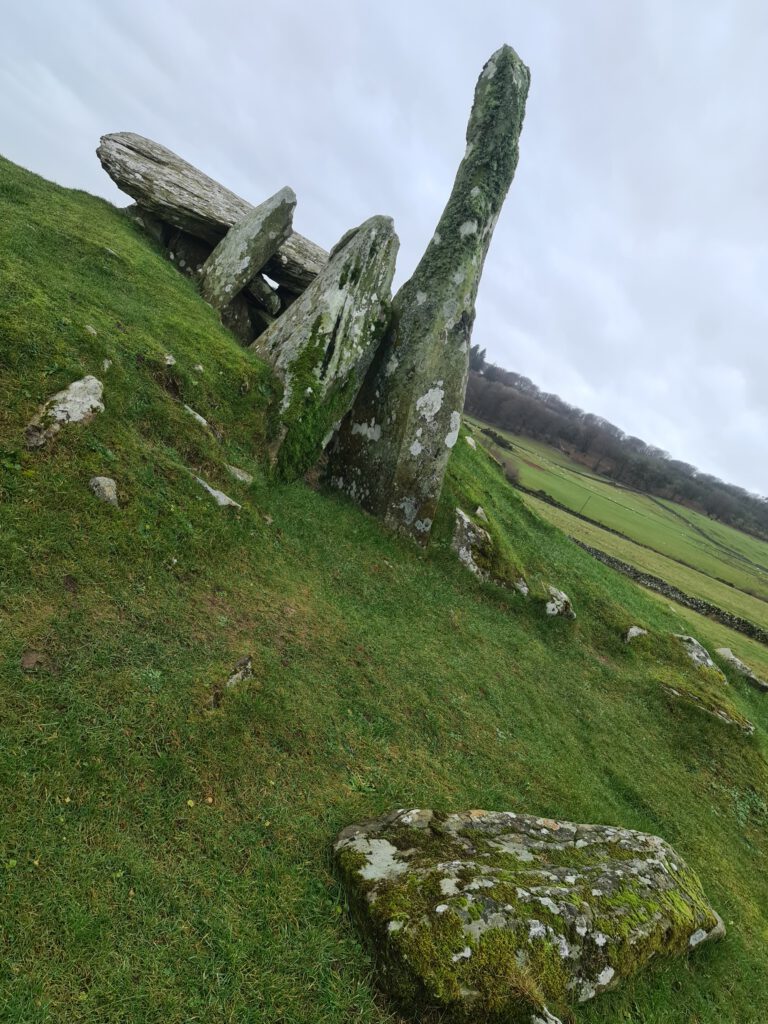 Discoveries from the excavation were and still are very important to bring a bit of light into this time about which we know way to less. Jadeite for example must have been imported from the Alps in mainland Europe, which suggests that wealth and power was nothing the inhabitants of Galloway have lacked. It also shows that Scotland's Neolithic population interacted and maybe even traded with foreign groups….
With the cairn dating back over 5000 years it makes it older than the Great Pyramids of Giza which is one fact I find very interesting.
Both of the cairns are definitely a must see. You can enjoy the history, told by the stones up there and I can't think of a better spot to enjoy a nice sunset over Wiktown Bay on a nice day, they are truely worth a visit!