The Great Glen Way also referred to as Slighe a' Ghlinne Mhòir (Scottish Gaelic) describes the long-distance trail from Fort William (or Corpach) in the west and Inverness in the east of Scotland. It is approximately 125 km or 78 mi long however the length might differ if you choose to walk the High Route between Fort Augustus and Drumnadrochit. Depending on how much each person does walk in one day it takes from 5 up to 8 days to walk the whole distance. Package transfers are often offered and offer the opportunity to walk with just a light bag, the heavier suitcase waiting in your destination for that night. If you go for the bigger adventure of course it's also possible to choose wildcamping, campsites or hostels along the way and still walk wit your own full equipment, the advantage sure being that you don't have to worry about how far you are walking in one day since you can adjust it to your capabilities more easily. Except for small parts past Gairlochy most of the Great Glen Way is offering Trailblazer composite toilets (with areas around, very much suitable for camping) or in general allows wildcamping.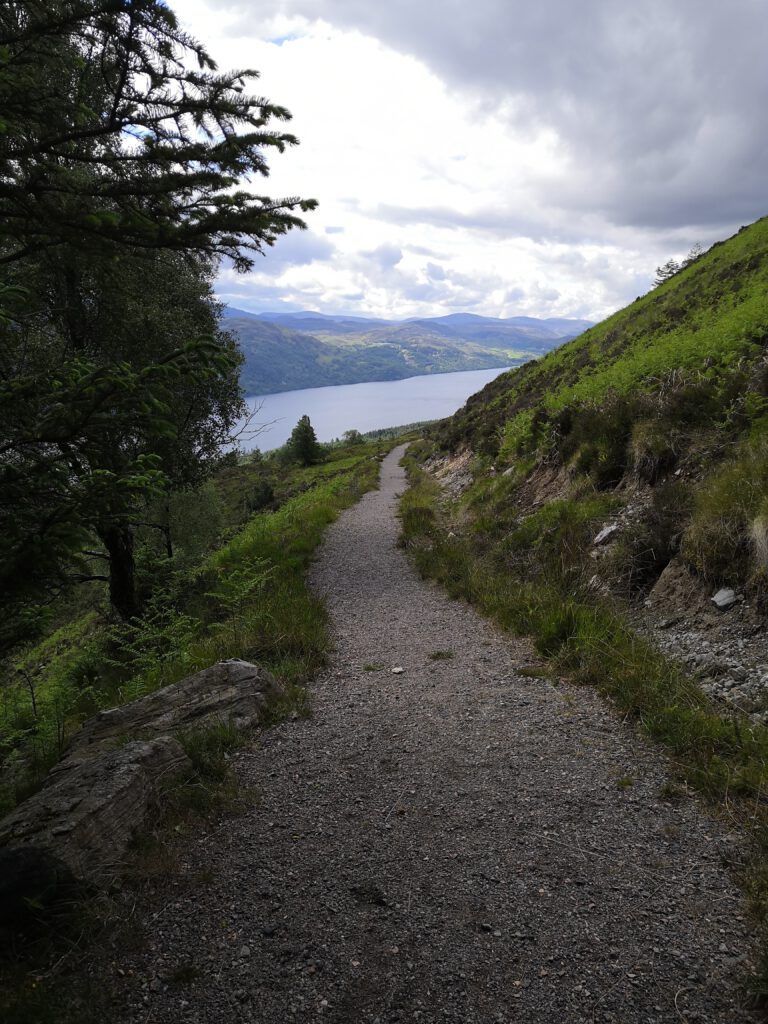 With canoeing now becoming more and more popular in Scotland as well the Great Glen Way is often changed to be a canoeing trail with going ashore at night, often camping. But not just canoes are what you can see on the Great Glen Way these days, along it runs as well one of the Great Cycle Trails of Scotland, for which you need approximately 2 to 3 days, however for canoeing and cycling of course does not offer the High Routes between Fort Augustus – Invermoriston and Invermoriston – Drumnadrochit which for walkers for sure are most interesting to take, at times offering more spectacular views back towards Ben Nevis (even visible in good weather conditions) or on Loch Ness, which is often hard to spy due to the woods having grown that high.
Each year about 30,000 people use the Great Glen Way, most of them just finishing sections and not the whole way, just about 4,500 complete the entire route.
Back in the summer of 2017 a temporary model railway was laid and filmed over the Great Glen Way, being about 114 km long it is known as 'The Biggest Little Railway in the World'. (I did parts of the Great Glen Way in summer 2017 but sadly must say I neither knew about nor saw the model railway at all ☹)