Location: Dryburgh, near St Boswells, Scottish Borders, Lowlands of Scotland
today: ruin is opened to the public
public transport: buses to St Boswells or Newton St Boswells, from here you can follow the Border Abbey or St Cuthberts Way to the ruins of Dryburgh Abbey
scheduled monument: yes
managed by: Historic Environment Scotland
entrance fee (subject to change): £ 7.50
opening times (subject to change): 9.30 am to 5.30 pm (10 am to 4 pm during winter season)
directions: Google Maps
On the counterpart to the other Border Abbeys, Dryburgh Abbey wasn't founded by King David I but by Hugh the Moreville, Constable of Scotland and the Lord of Lauderdale, who invited Premonstratensian canons up from Alnwick Priory. Being officially founded in 1150 it took until December of 1152 until the canons alongside their abbot actually arrived at the site.
Given the previously mentioned fact that Dryburgh Abbey wasn't under the royal patronage it is important to note that this does have quite the effect on the abbey, although de Morville was quite a wealthy noble man, he ended up in trouble to pay enough money and so huge sums were donated by his wife, Beatrice de Beauchamp. Although not one of his patronages the king must have still paid a bit of attention to Dryburgh Abbey, or better said paid attention by turning some sort of a blind eye, and so he kinda allowed the abbey to take timber from his forests for the building work, all for free due to his either blind eye or a silent understanding with de Morville.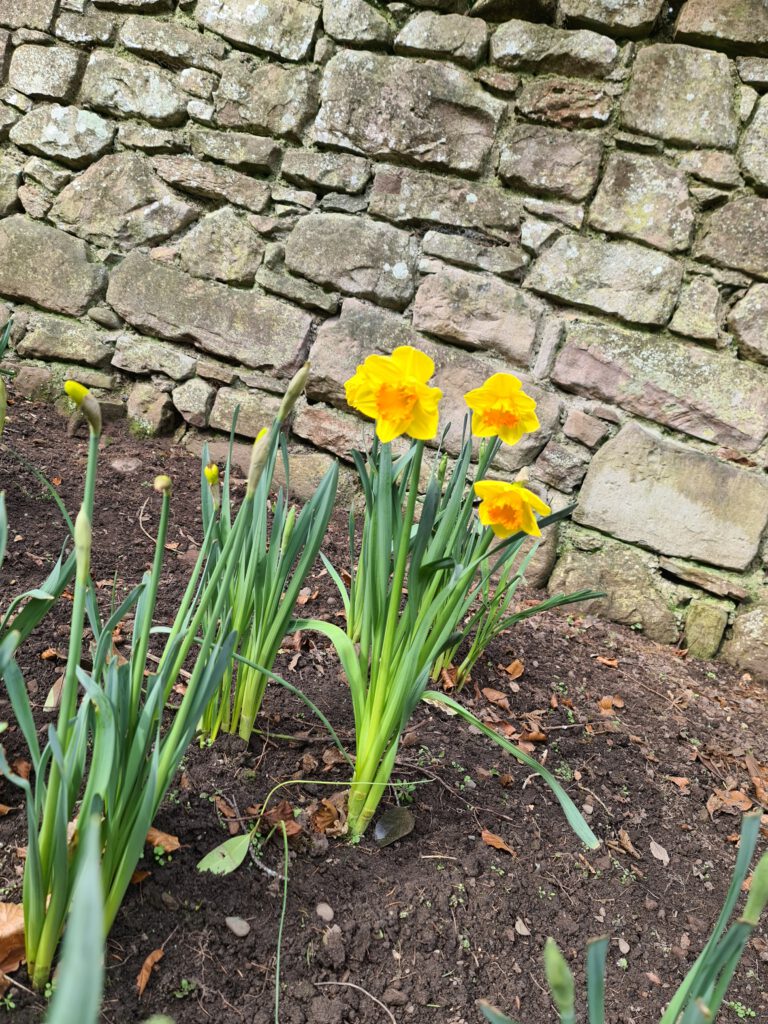 Though a lot of lands related to the abbey and provided an income the struggling times would never end for it. Shortly before his death in 1162 Hugh gave up his earthly possessions, dividing them between his two sons, before himself entering the abbey-church to live like the other canons.
His oldest son Richard received all his lands in Scotland including the patronage over Dryburgh Abbey in which his father died in 1162, while the younger son, Hugh, received the estates in England. Maybe it was Richards fault that Dryburgh Abbey would never manage to get as wealthy as the other Border Abbeys, but it would be wrong to blame one person when it was a lot of circumstances that played together throughout the years.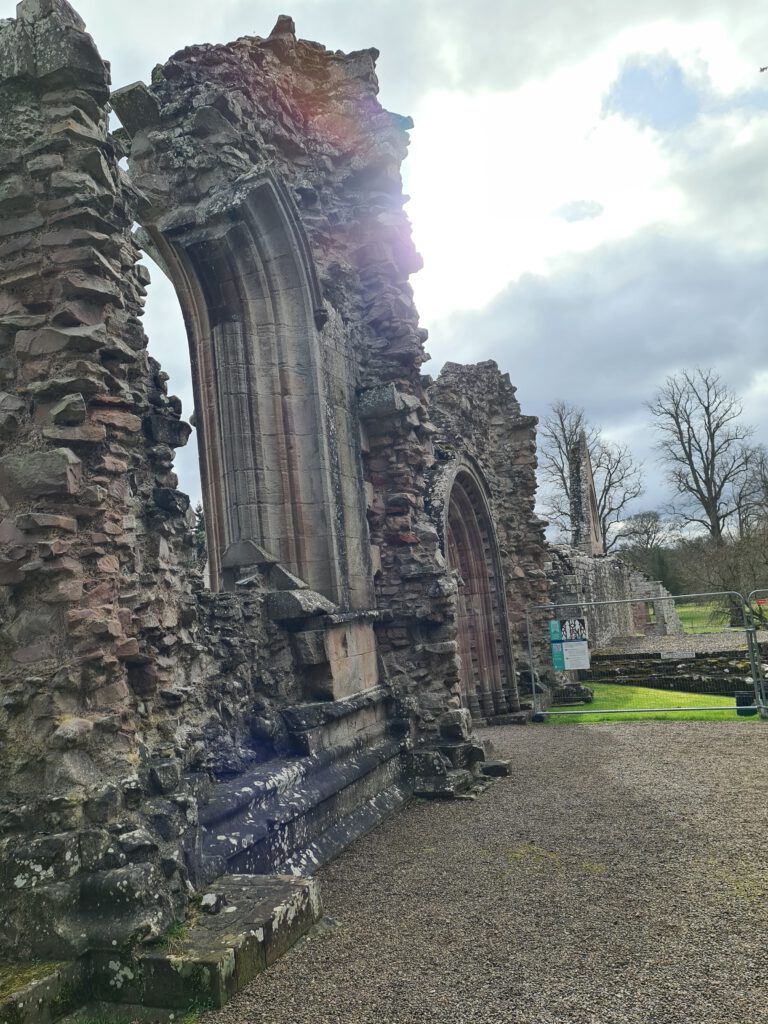 During the following years the abbey didn't just suffer the inefficiency of its own fund management but also that caused by Kilwinning Abbey in Cunningham, which was founded on a grand scale by Richard, who organised that the expenses were paid for by his holdings in Lauderdale which took quite a bit of money originally going to Dryburgh Abbey, now going to Kilwinning Abbey, causing arguments for a long time. All this led to both the monasteries remaining in a constant state of poverty.
Throughout the years Dryburgh did attract many canons and although it was drastically underfunded on various occasions, it still led Dryburgh Abbey to act as a motherhouse, but none of its sub houses did really manage to flourish.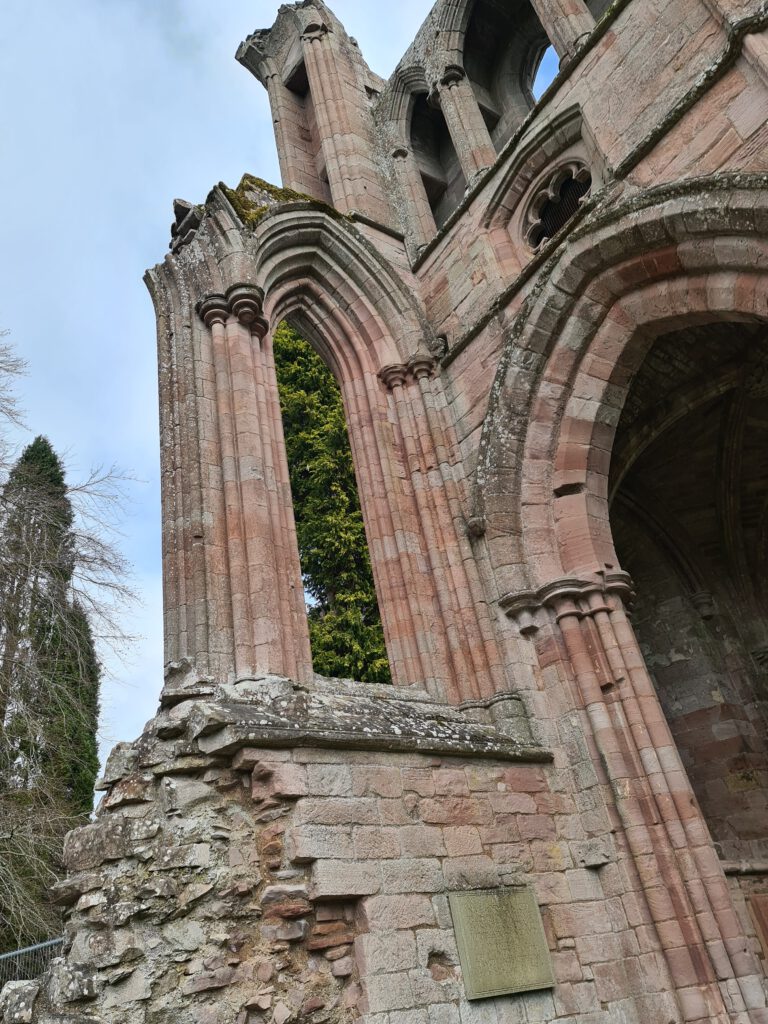 In 1196 the line of Hugh de Morville died out and the lands passed into the hands of the Lords of Galloway, who were wealthier but had other priorities, such as the religious houses they were already benefactors of before getting Dryburgh Abbey as well. It only took until 1234 before the line of the Lords of Galloway died with Alan's death.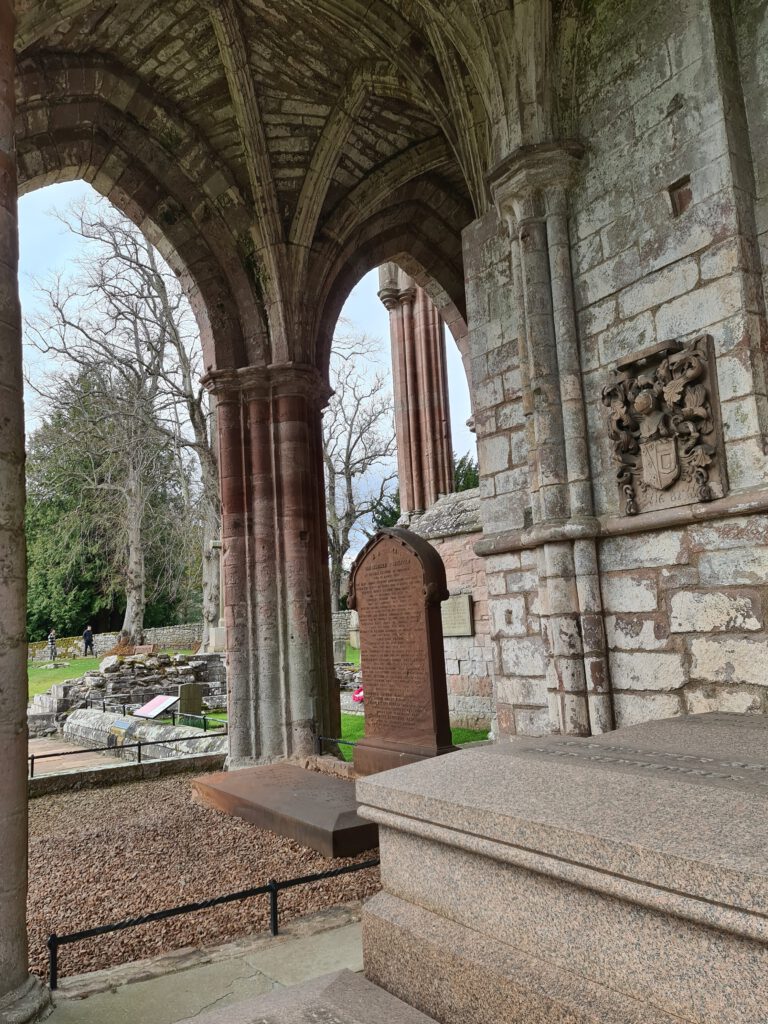 In the meantime, Dryburgh Abbey underwent a rebuilding program just as Melrose Abbey (Melrose Abbey – A scottish World), but all those buildings out of stone connected with Dryburgh's insecure income led to this being a very long process and with the construction still not being finished in the 1240s, the debts just kept on growing and led to the Bishop of St Andrews, David de Bernham, to whose diocese Dryburgh Abbey belonged, giving the Abbott the permission to appoint canons as vicars in the supporting churches.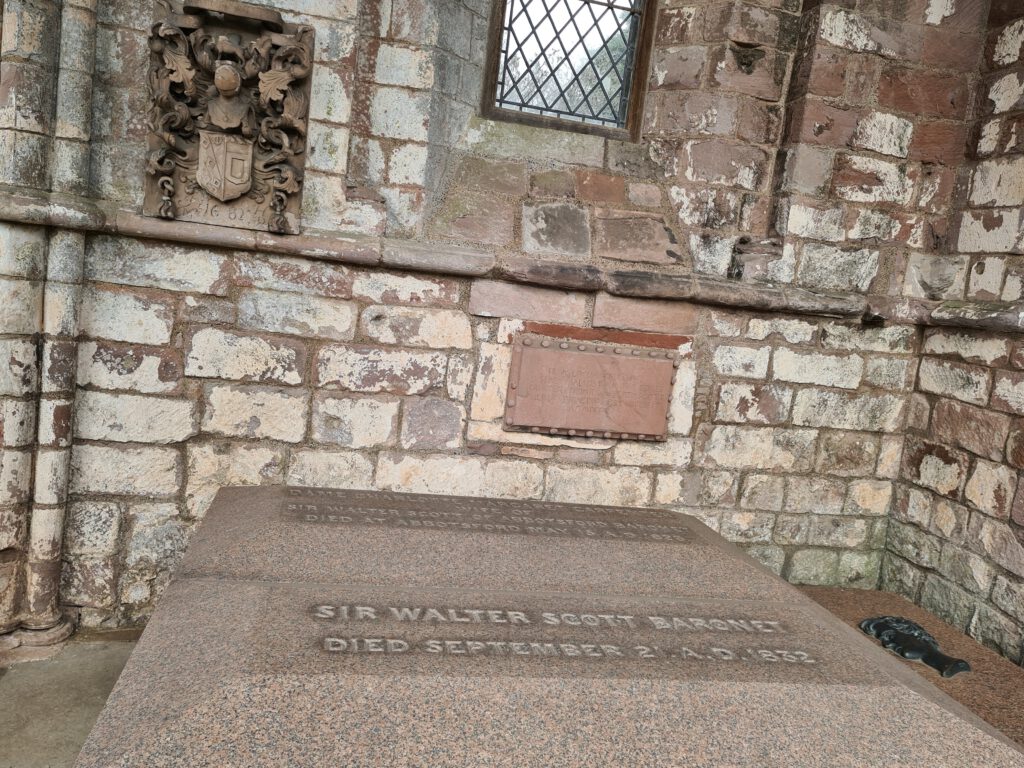 The Lords of Galloway line dying out led to their lands being divided between the three daughters and their husbands which led to the lands of Dryburgh Abbey eventually being strongly connected to John Balliol, who became King of Scotland in 1292. Around the same time there was a lot going on regarding the funding of Dryburgh Abbey and it led to many more peoples and other monasteries being involved to support with the funding and financial management.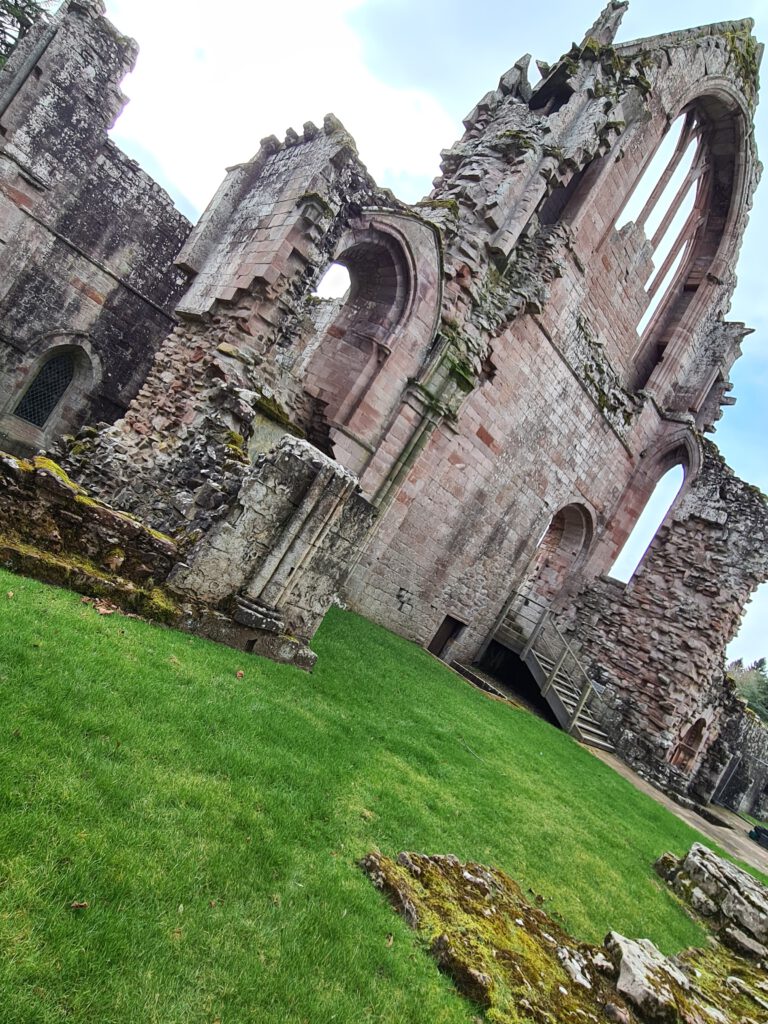 With Balliol's abdication the Scottish Borders were transformed back into a place of chaos and disorganisation, which led to a lot of destruction by Edward I before the abbots of the Border Abbeys all submitted to him, the Ragman Rolls. It was Edward who finally restored the lands of Dryburgh Abbey. Which was followed by no remaining records between 1296 and 1316.
In 1316 the abbey was used by Robert the Bruce as a base for various raiding expeditions into England. So, when the army of Edward II went up to Edinburgh and retreated through Lauderdale in 1322, they looted and burned Melrose and Dryburgh Abbey and while Melrose was repaired under Robert's rule, Dryburgh seemed to have been ignored. And all this just because the soldiers heard Dryburgh's bells ringing while they were retreating.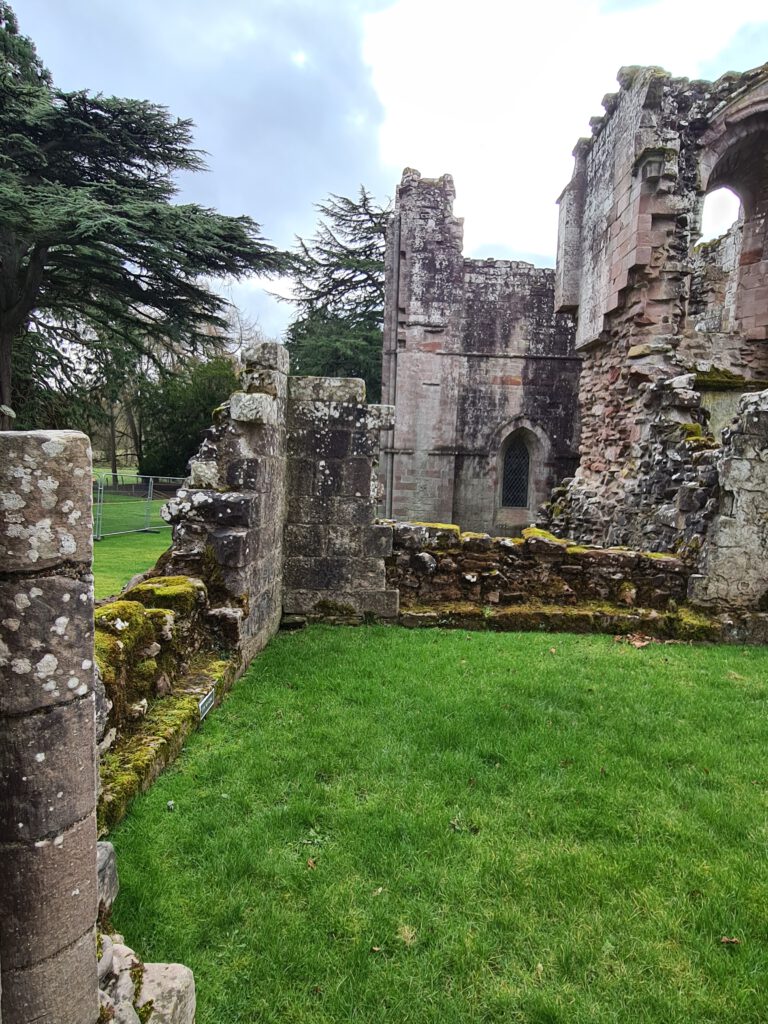 In 1326 the Bishop of Glasgow, John de Lindsay, helped to endorse the abbey's possession which allowed the canons to use the income to restore the abbey. All this was followed by many small donations by various individuals. After King Roberts death in 1329 things again turned to an English patronage of some form with Edward II gaining the lands of Jedburgh (Jedburgh Abbey – A scottish World) alongside many more, during his time as overlord over Edward Balliol.
Around 1335, Edward III's campaign led him to move to Dryburgh Abbey expecting a never arriving surrender, instead the lands changed hands again by 1346, being back to Scottish. The next years were drawn by changing hands between Scotland and England, which had it stay under English control for 20 years at a time.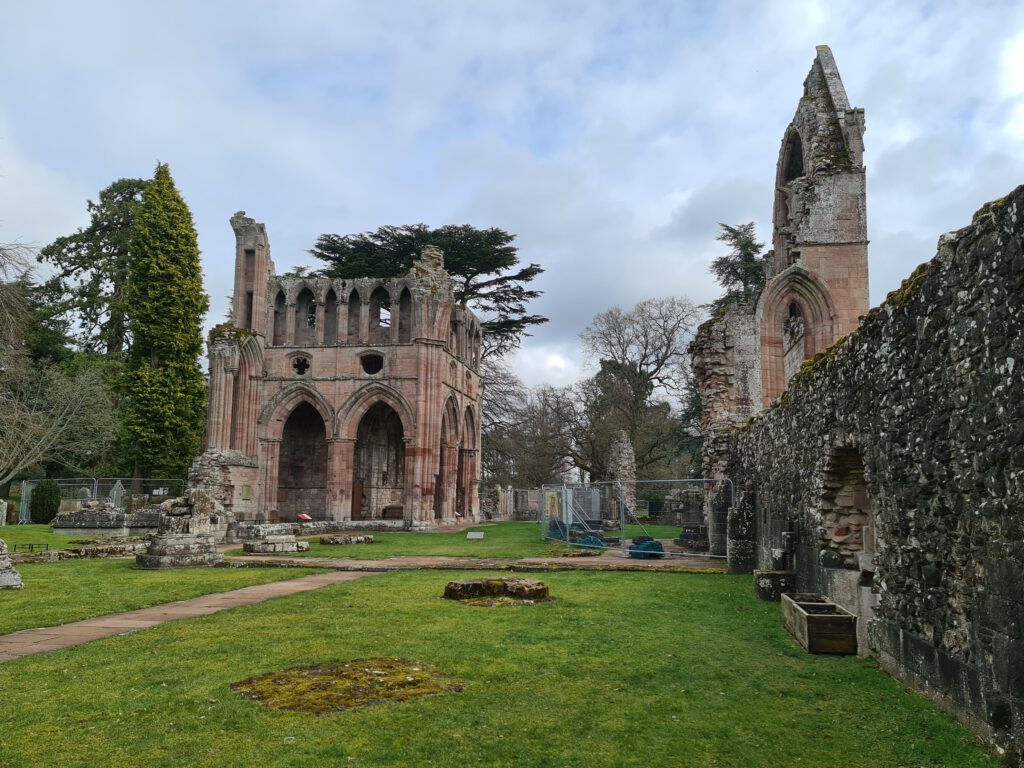 During those periods in English hands, it was that the records of Dryburgh were lost, and all the remaining info must be taken of Melrose Abbeys records. During the 1360s and 1370s the Borders turned back into Scottish hands, at least most parts of it, this got more and more intense with raiding parties entering England during 1384 and 1385. This led to Richard II of England to burn a lot of places in-between the Border and Edinburgh, which had Dryburgh Abbey being burned a second time.
Again, it was many different Scottish nobles who paid for big parts of the restoration. Alongside which were the infamous Black Douglases. And then for the third time in the short history of Dryburgh Abbey, a fire destroyed the monastery in 1443, this time seeming to have been an accident.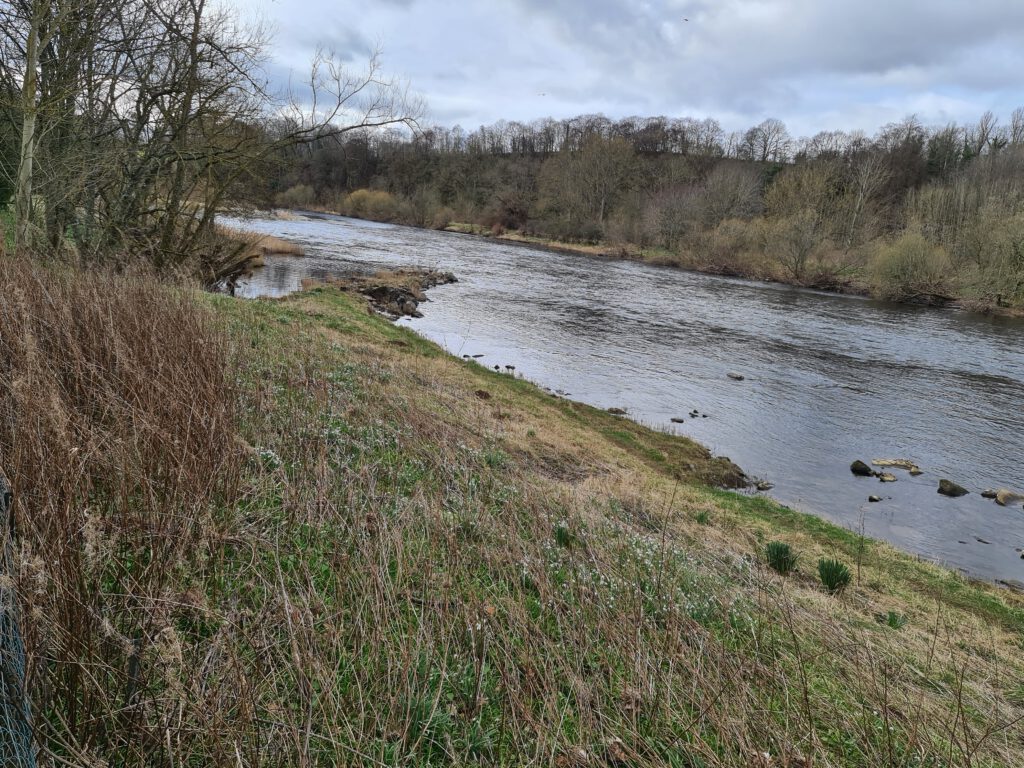 The following years a couple of things changed around the abbey, such as King James IV taking sort of an interest in the place, even if just by providing the good service of the clerics by giving them a commendatorship. And so, in 1509 Dryburgh Abbey had its first commendator, Andrew Forman who was the Bishop of Moray. Forman gave up his position after becoming Archbishop of St Andrews and James Ogilvie succeeded him, being a cleric and diplomat just as Andrew Forman was.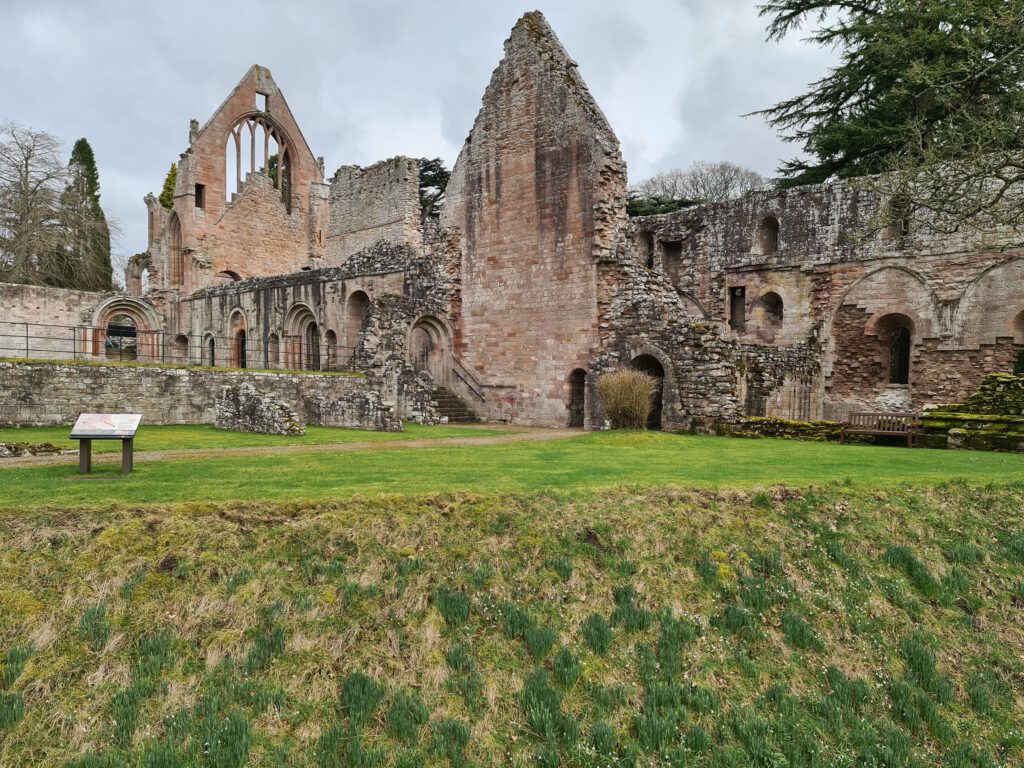 The two of them were followed by several commendatores such as David Hamilton and later John Erskine, Earl of Mar. During those times starting from about 1541 onwards the situation surround England and Scotland became quite heated again and in November 1544 the town of Dryburgh and Dryburgh Abbey were once more burned by the English. Edward Seymour, Earl of Hertford, didn't get enough the first time and less than a year later he came back to set the abbey on fire again. This was the final straw for Dryburgh Abbey and left it pretty much destroyed, never to be rebuild a lot.
The commendatory part had a counter side though since its bearers didn't show a lot of interest in the spiritual side of the abbey, which was probably the reason for no rebuilding work being undertaken. However, with the Scottish Reformation all of this went down for good, and the abbey was given to the Earl of Mar by James VI of Scotland.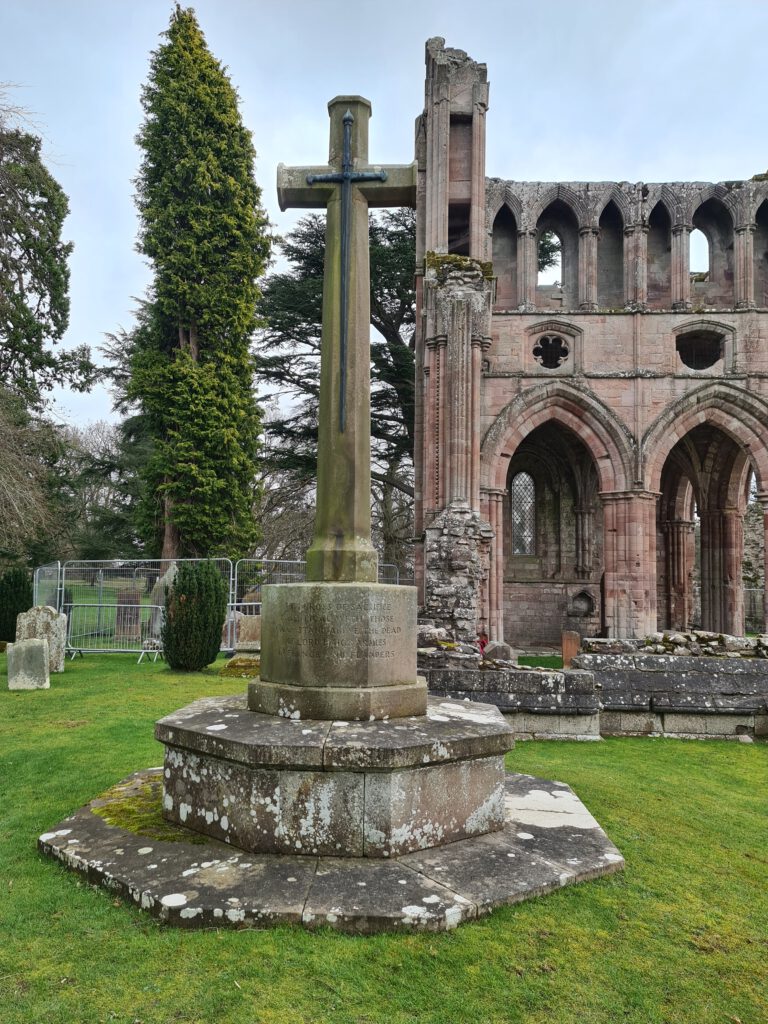 After the reformation of 1560 the canons at the abbey slowly died of old age over the years and due to the reformation, there were no new ones coming and so by 1584 there were only two brethren remaining who according to Erskine by June 1600 had died as well and the title of commendator of Dryburgh Abbey was nothing more than a titular title for the following years.
In 1786 the 11th Earl of Buchan, David Stewart Erskine, bought the lands of Dryburgh Abbey which once used to be a place of peace and tranquillity and still is to this day, after his death he was buried in the sacristy in 1829.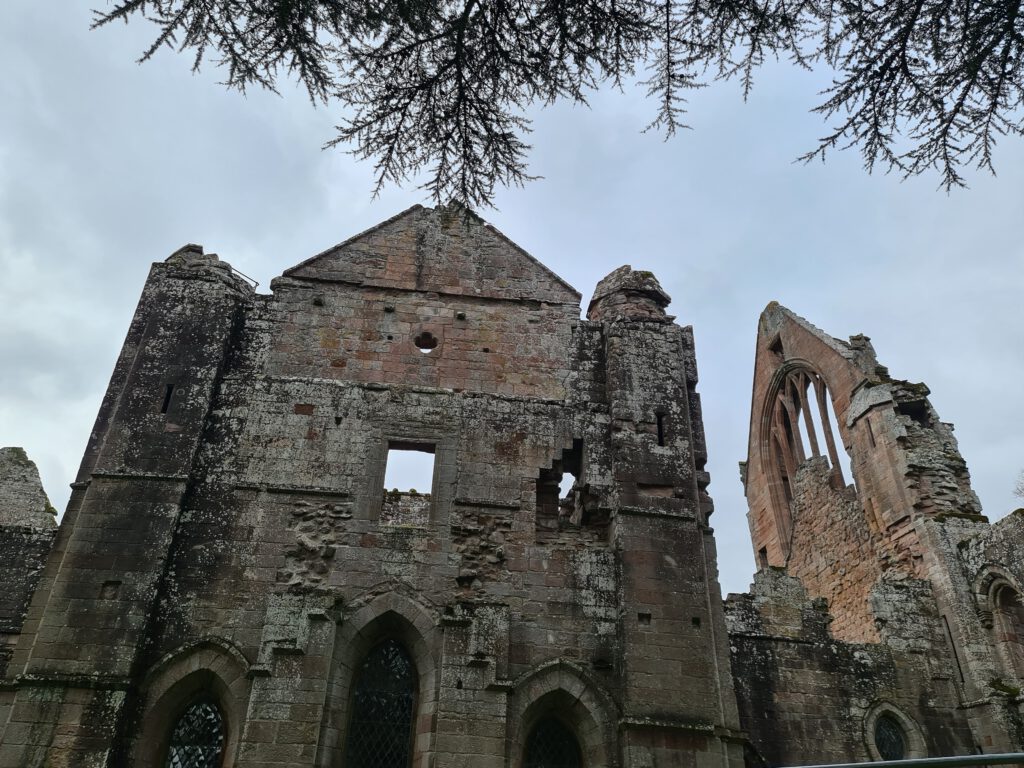 With many of the former spiritual and domestic homes still being intact today the lands haven't lost their charm and over great opportunities for amazing times, with the gothic architecture offering a home to the tomb of Sir Walter Scott and well as Douglas Haig as well as three different species of bats roosting in the veteran trees and abbey ruins.
Although of being pretty destroyed, the abbey still is beautiful and maybe the most idyllic and beautiful of all four/five of them, the ruins are most definitely remarkably complete and have lots of gorgeous grounds surrounding it. Most interestingly, although of the many fires the paintwork in the chapter house can still be seen today (when I visited, it unfortunately wasn't open due to masonry work).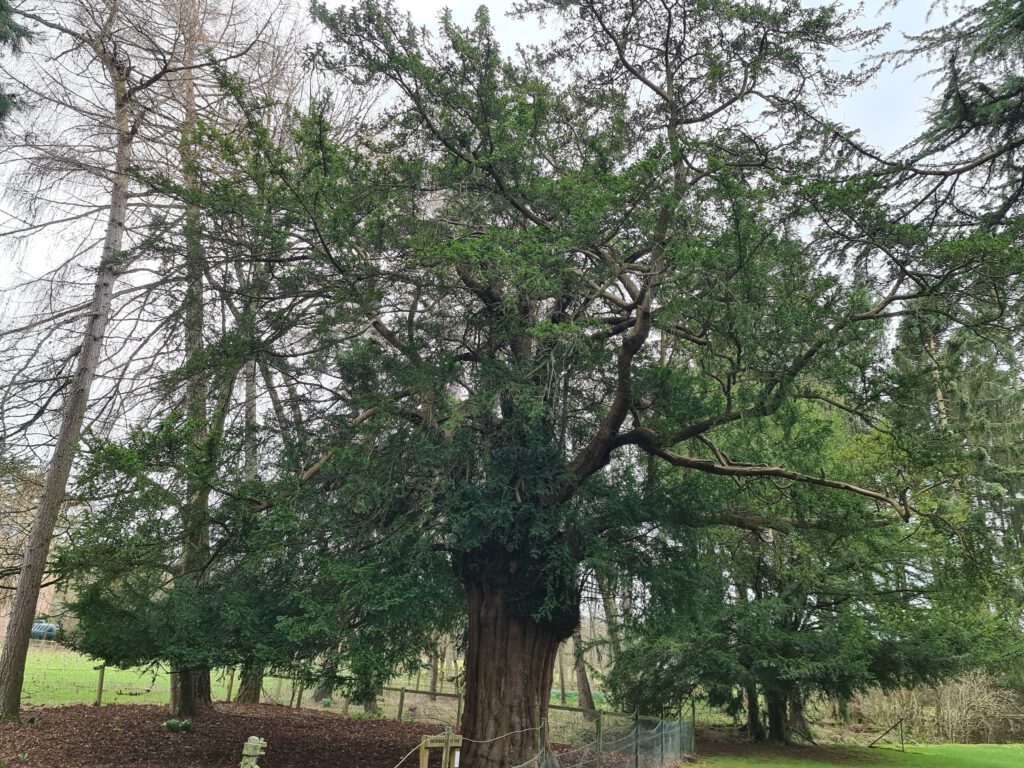 Surrounding the ruin there is the story of Fat Lips which started out with a woman moving into the monastery ruin after the 1745 Jacobite Rebellion in which her lover had been killed. The legend says that Fat Lips is a kind spirit in iron boots, looking like a little man, tidying her cell instead of her.
Historic Environment Scotland does a great job in keeping the grounds open and save for many generations to come which at times leads to partial closures. The grounds are simply great and with a semi sunny day it is amazing to just spend a couple of hours on the abbey grounds or at least pay it a brief visit if walking by on the Border Abbey Way or on another route nearby such as Dryburgh Abbey and the River Tweed, St Boswells – A scottish World.