Location: near Canonbie, Dumfries and Galloway, Scotland
kind of castle: 16th century tower house
today: visitor centre, Clan Armstrong Museum; all opened to public
public transport: buses from Carlisle to Hollows (then a short walk), regular train services to Carlisle are generally available as well
scheduled monument: yes
managed by: Clan Armstrong Centre, Scottish Registered Charity
entrance fee: £ 6.00 per adult
opening times: 1st April to End October – 7 days – 10am till 4pm; 1st November to end March – 7 days – 11am till 3pm (for up to date information check out the website: Clan Armstrong Centre – Gilnockie Tower )
directions: Google Maps
Situated on the bank of the River Esk, the cream sandstone building which is today known as Gilnockie Tower was originally called Hollows Tower. The Tower is not to be confused with Gilnockie Castle, which is said to be located close by, but the Tower is not the Castle still!
The nearby town of Hollows was built around 1520 by the outlaw Johnnie Armstrong and his brother Thomas Armstrong. Just eight years later however, the tower was burned by the English Warden of the Western Marches and two years later in 1530, Johnnie Armstrong and 50 followers were hanged by James V. After being rebuilt, the tower was damaged by English raids in the 1540s. After those raids it again was rebuilt, adding a new parapet walk and a beacon stance on the gable.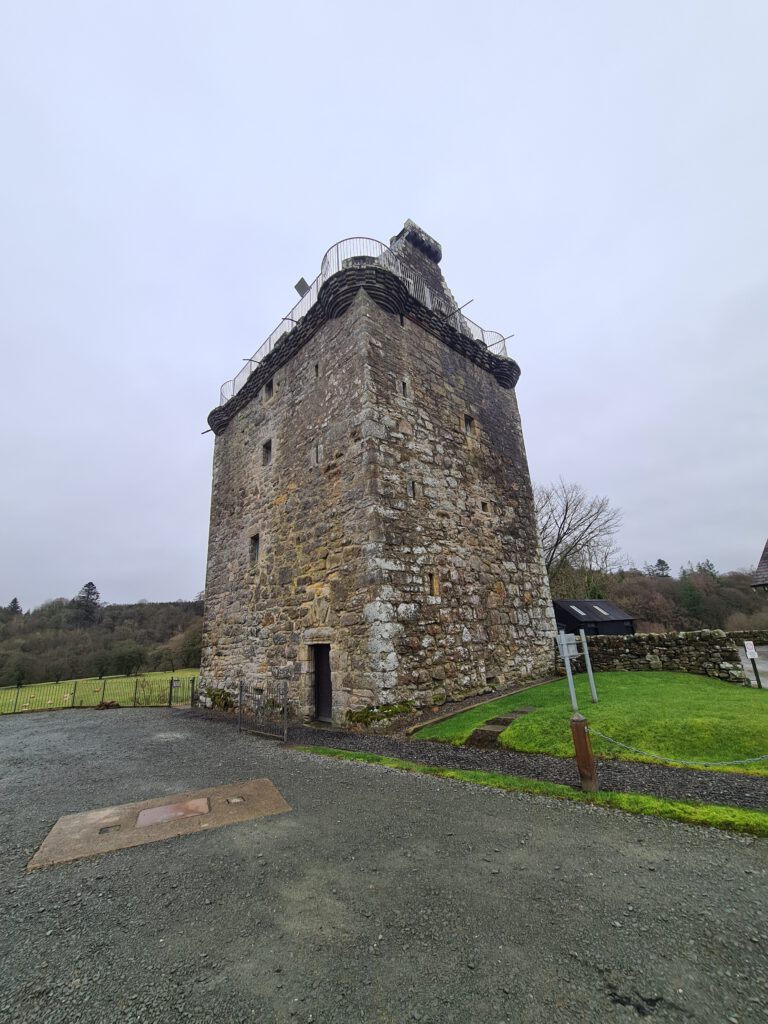 The whole story of the border reiver Johnnie Armstrong was romanticised in Sir Walter Scott's Johnnie Armstrong.
By 1978 the tower was a roofless ruin which was bought by yet another Armstrong, Major T.C.R. Armstrong-Wilson, who restored the whole tower. It was during those restorations that the floors were reconstructed and electricity and water was taken into the building, amongst many other works.
Though of those restorations the tower still was closed down in 2015 and some major repairs were made, mainly to take the building back to how it would have looked like during the 16th century, installing some extra safety measures to make it a 21st century visitor centre.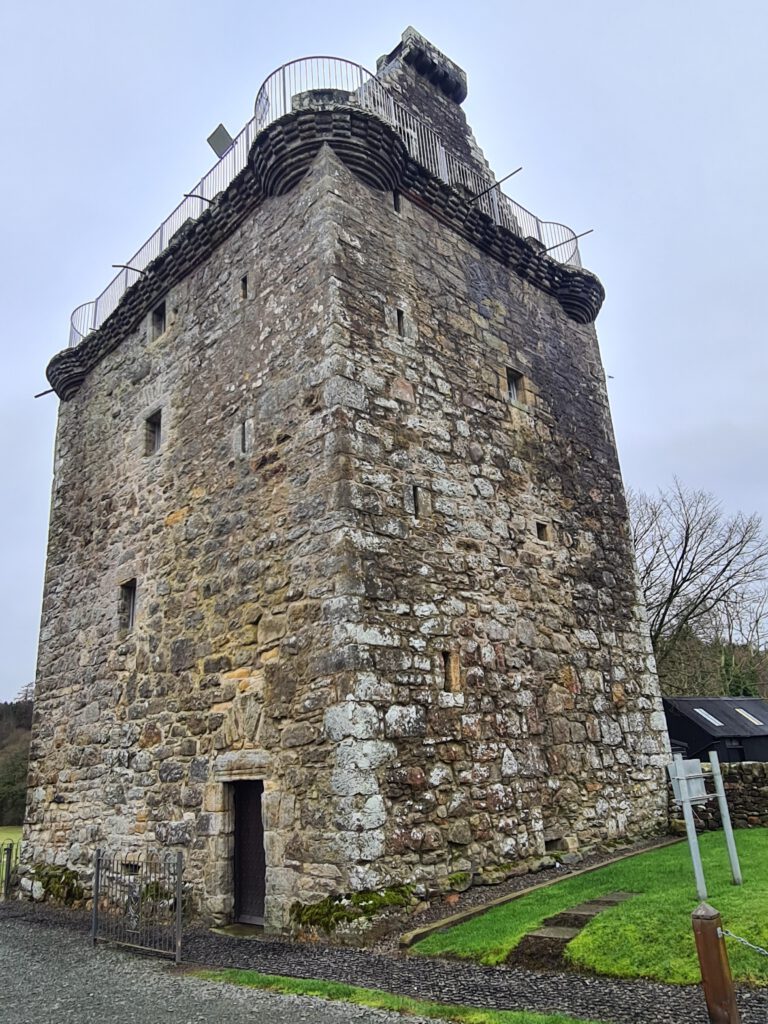 And then the day had come… 1April 2018 Gilnockie Tower reopened and with it the Clan Armstrong Centre, consisting of the authentic clan leaders house with its Grand Hall and Master Bedroom. It also houses the Clan Armstrong Museum which before had been located in Langholm, but the artefacts relating to Clan Armstrong are now on display at Gilnockie Tower, including a special corner devoted to the first Man on the Moon, Neil Alden Armstrong. The tower is now internationally recognised as the ancestral home of the Armstrong Clan!
I made the mistake again of having to less time to spend there and unfortunately due to that I only found out a couple of interesting things about it afterwards. Still, I figure that in more than just one way, Gilnockie Tower is a great place to spend some time and if you are related to Clan Armstrong, find out more about your ancestors and their position in Scottish history. As mentioned, the time was too short for me, so I only saw the outsides of the Tower which still were pretty impressive views. (the centre also wasn't open due to covid when I visited)